From the publisher: "In a follow-up to Tomorrow I'll Be Brave, award-winning illustrator Jessica Hische brings to life another series of inspirational words and scenes with her lovely hand-lettering and adorable illustrations. This uplifting and positive book encourages kids to promise that tomorrow, they will be grateful, helpful, and kind."
Each book is signed and personalization is available! Please add first name(s) for personalization below along with any notes.
Regular price
Sale price
$20.00 USD
Unit price
per
Sale
Coming Soon
View full details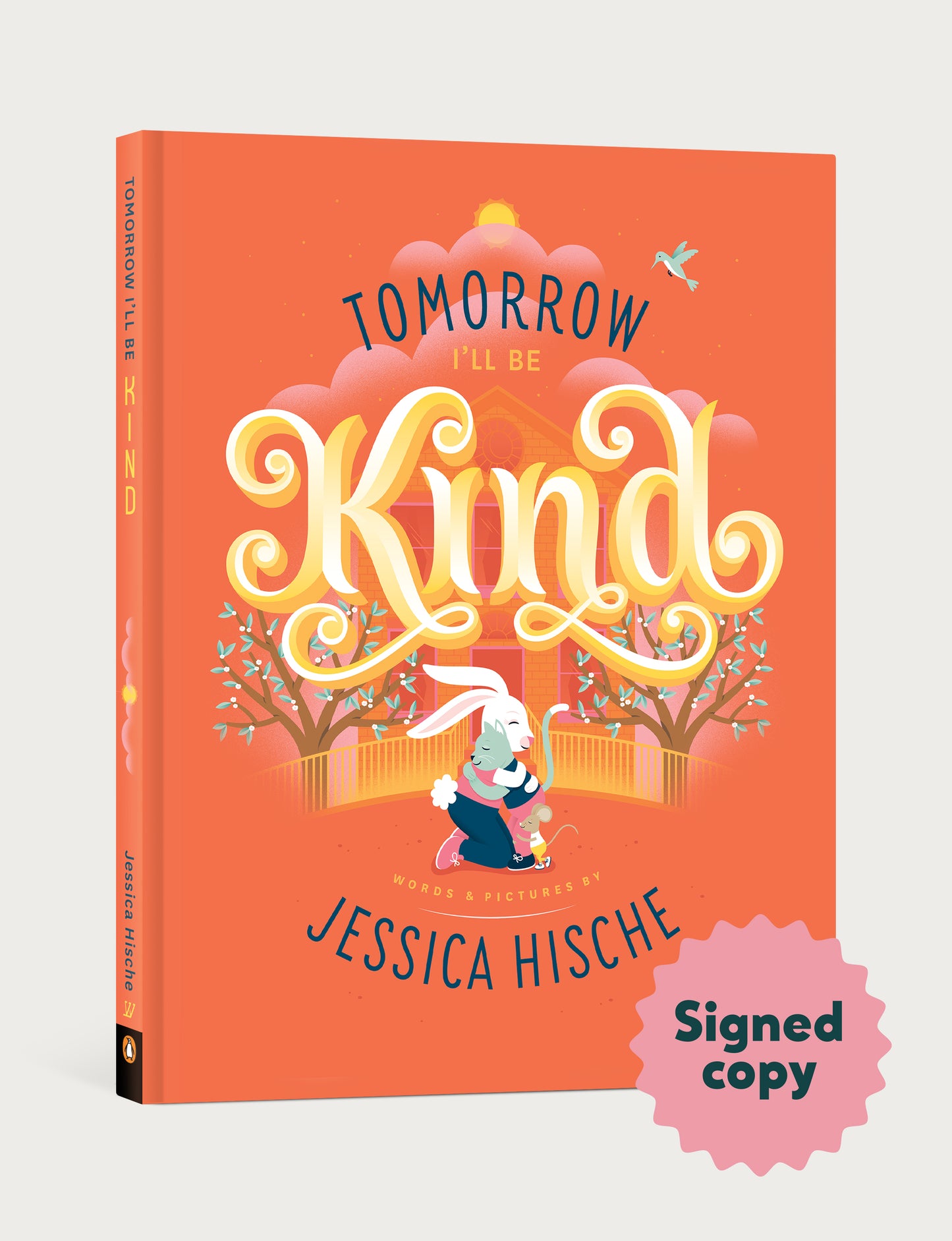 When I had initially started brainstorming about Tomorrow I'll be Brave, I made a huge list of aspirational words. There were so many good ones that I had a hard time narrowing it down. I also saw two distinct kinds of positive attributes emerge: attributes that mostly impact you—elevate you, fortify you, and help you have courage to take on anything...and attributes that encourage you to help those around you and ultimately make the world a better place. When I talked to Penguin about Brave, I talked to them about both books. That they were two sides to the same coin. First you have to take care of and encourage yourself, and then you can do your part to help others. Tomorrow I'll be Brave has a light effervescent energy and Tomorrow I'll be Kind is a low burning flame.
This book also has a deeper meaning for me. As a person who was raised in the Catholic Church but now considers herself agnostic / on a path to her next spiritual calling, I wanted to address these universal morality teachings from a secular standpoint. I wanted to figure out how to drive home the concept that doing good can come from a light lit within, not because of fear of punishment from an external source. I believe religion can be a wonderful and beautiful thing for people, but I also believe that you can be a good person and have a well developed sense of morality without it. Ultimately I'd love for people of every belief and background to feel this book resonates with them. We all can be helpful, patient, gentle, honest, generous, grateful, and kind to each other, and when we try—even a little bit—it makes a huge difference.
New York Times Best-seller
Reviews & Testimonials
Jessica Hische, one of the great designers and typographers, now shows herself equally adept at creating gorgeous and immersive images for young readers. This is a joyous burst of color.

— Dave Eggers, Author of Her Right Foot

A friendly, undemanding and positive read, ideal for the end of the nighttime routine.

— Wall Street Journal

As an introduction to personality characteristics, beneficial behaviors, and social-emotional skills, this is a solid choice, and fans of the previous volume are likely to embrace this one as well. 'I'll dream of all the good that comes / when we all just do our best,' the text explains–a sentiment that's hard to rebut. Gently encourages empathy, compassion, and consideration.

— Kirkus Reviews

My daughter was diagnosed with autism at the age of 3 and will be 5 soon but she has been reading and yes I said "reading" both of your books word for word since she was 3. She doesn't know how to have a conversation or communicate with others but she is obsessed with words. Both of your books are the only books she reads over and over again and has really helped her get a voice. She has really struggled over the past couple years but she is extremely smart and I wanted to personally thank you for these two books that not only has the perfect message especially for her but has helped a little girl learn to read because your words are so beautifully pictured. She may not say hello to anyone but she can tell you that tomorrow she will be confident and brave.

— Anna, mom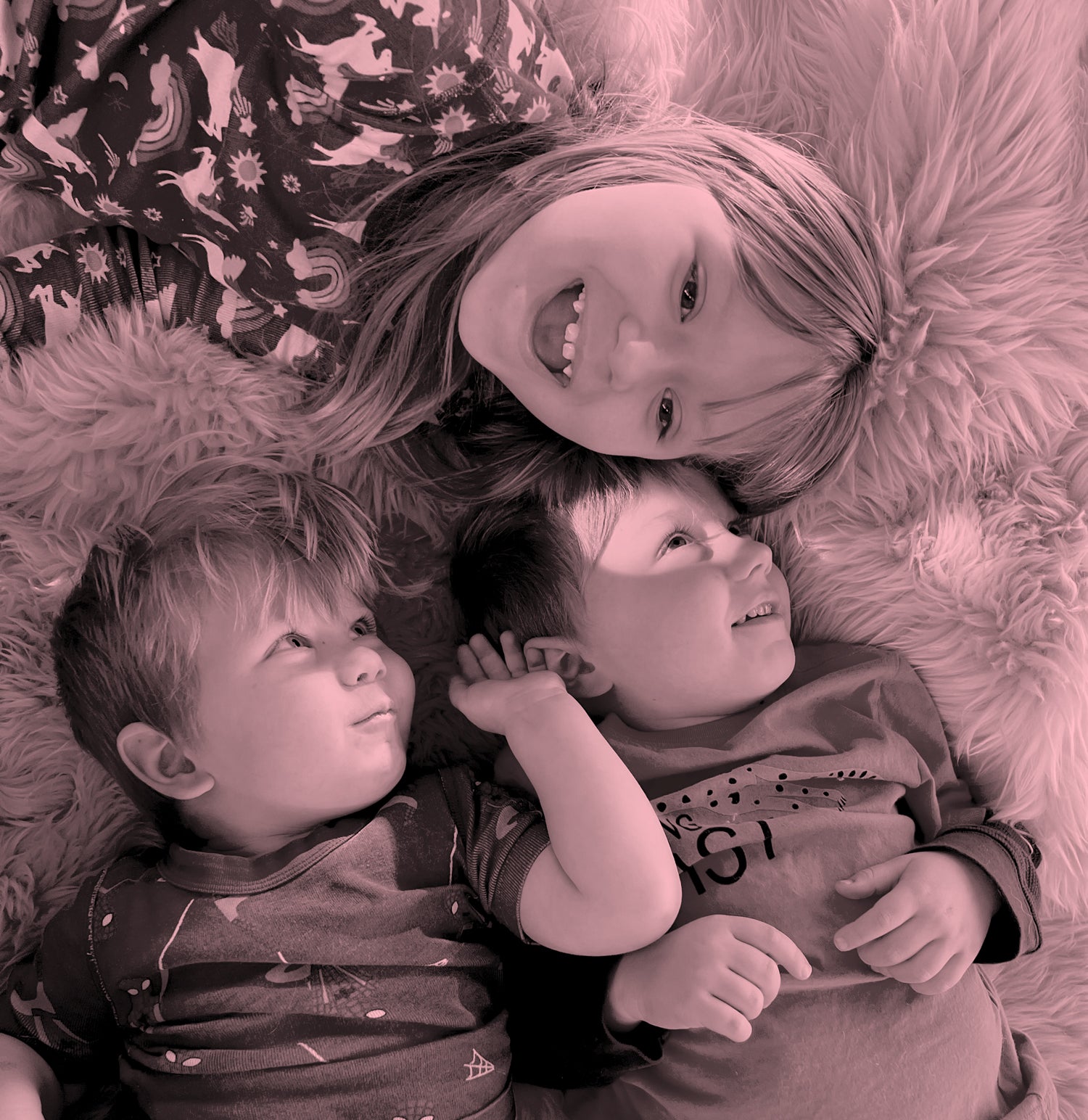 Gentle Encouragement
As a parent, I spend a lot of time reading books to my kids. There are so many books out there telling kids that they can be whatever they want—achieve anything they set their mind to—but few that partner aspiration with self-forgiveness. Both Tomorrow I'll be Brave and Tomorrow I'll be Kind encourage kids to dream big but these books also give them space to accept and learn from failures + build a practice around daily reflection.
The "Tomorrow I'll Be..." Collection