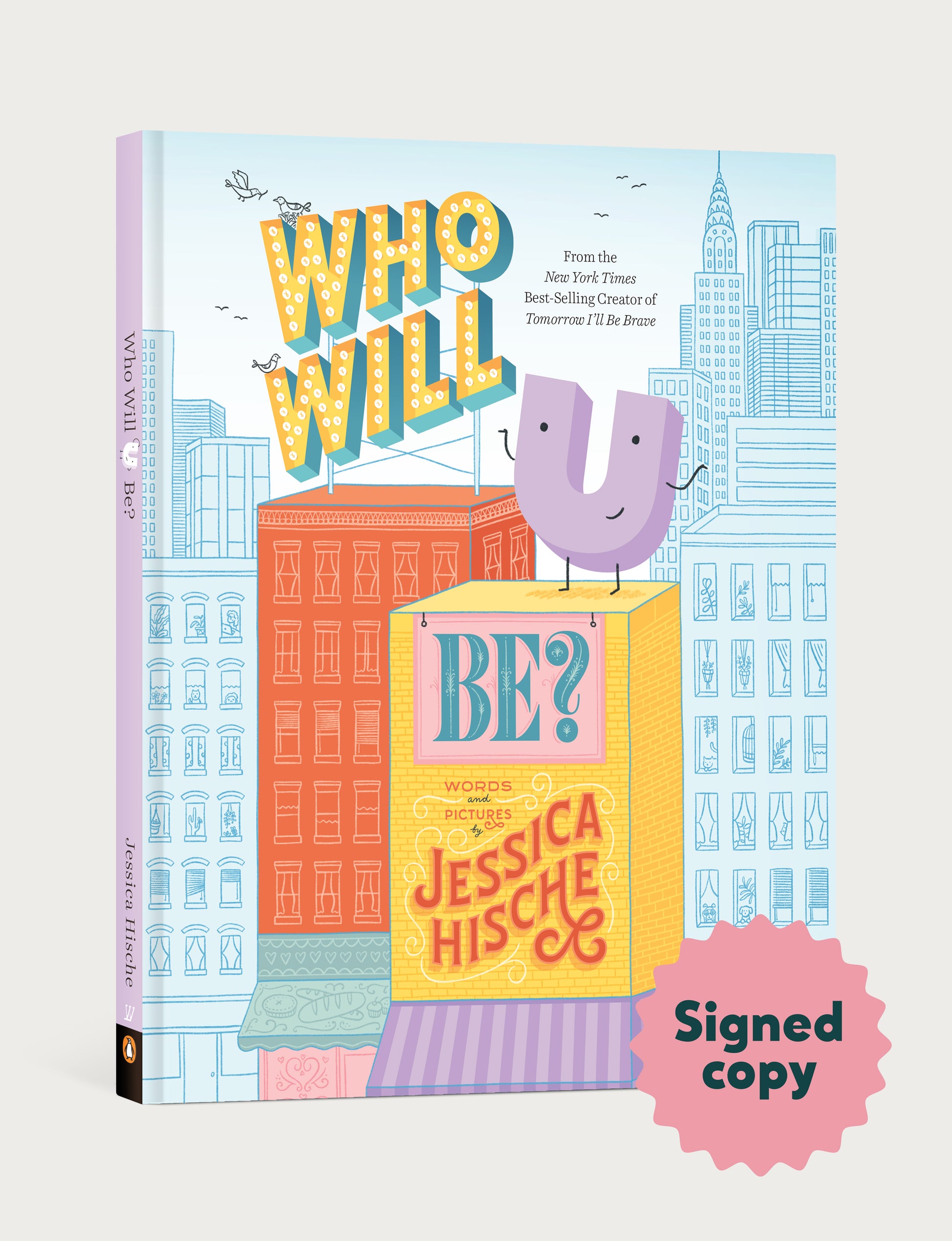 Who Will U Be?
From the publisher: "A delightful picture book by 
New York Times 
bestselling author-illustrator Jessica Hische that follows an inquisitive little letter "u" as she goes on a class field trip to find out all the ways letters are seen and used in the world. With clever storytelling and vibrant, powerful illustrations, bestselling author Jessica Hische has created an enchanting picture book that is not only an accessible introduction to typography for kids, but also a wonderful reminder to embrace one's individuality and curiosity as they grow older." Each book is signed and personalized. 
Please
add first name(s) for personalization below along with any notes.
View full details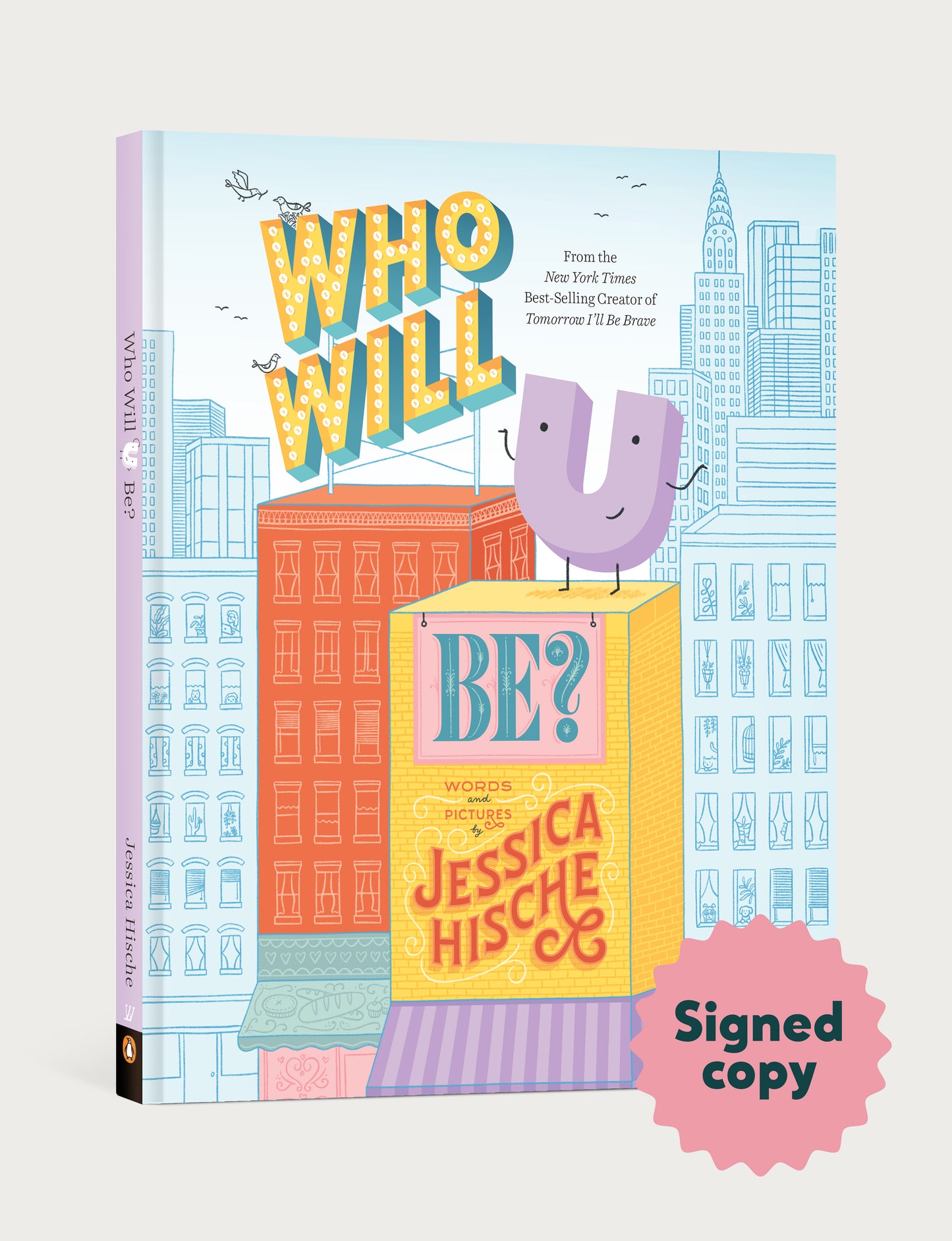 Books for Kids & Grownups
I love writing, illustrating, and designing books! My books are available through every major book seller. Here in my shop, you can snag a signed and personalized copy!
Tomorrow I'll be Brave

Jessica Hische, one of the great designers and typographers, now shows herself equally adept at creating gorgeous and immersive images for young readers. This is a joyous burst of color.

— Dave Eggers

Tomorrow I'll be Kind

A friendly, undemanding and positive read, ideal for the end of the nighttime routine.

— Wall Street Journal

In Progress

Is there any greater thrill than a peek behind the curtain to see how a great magician's tricks are really done? Jessica Hische provides that peek, and anyone who cares about drawing, lettering, or—dare I say—the power of the written word will be absolutely enthralled with what she reveals.

— Michael Bierut

Who Will U Be?

It will be easy for children to connect the quest of the letters to their own plans when they get big. The warm palette of colors invites readers in for a closer look at the densely packed illustrations. This book straddles a line between a story for upper and lower elementary readers. A good choice for libraries needing fiction picture books about starting to consider one's place in the world.

— School Library Journal
Prints for Book Lovers
If you love books, you'll love the special limited edition letterpress prints of my book cover designs for Barnes & Noble!
Regular price

$225.00 USD

Regular price

Sale price

$225.00 USD

Unit price

per

Regular price

$225.00 USD

Regular price

Sale price

$225.00 USD

Unit price

per

Regular price

$225.00 USD

Regular price

Sale price

$225.00 USD

Unit price

per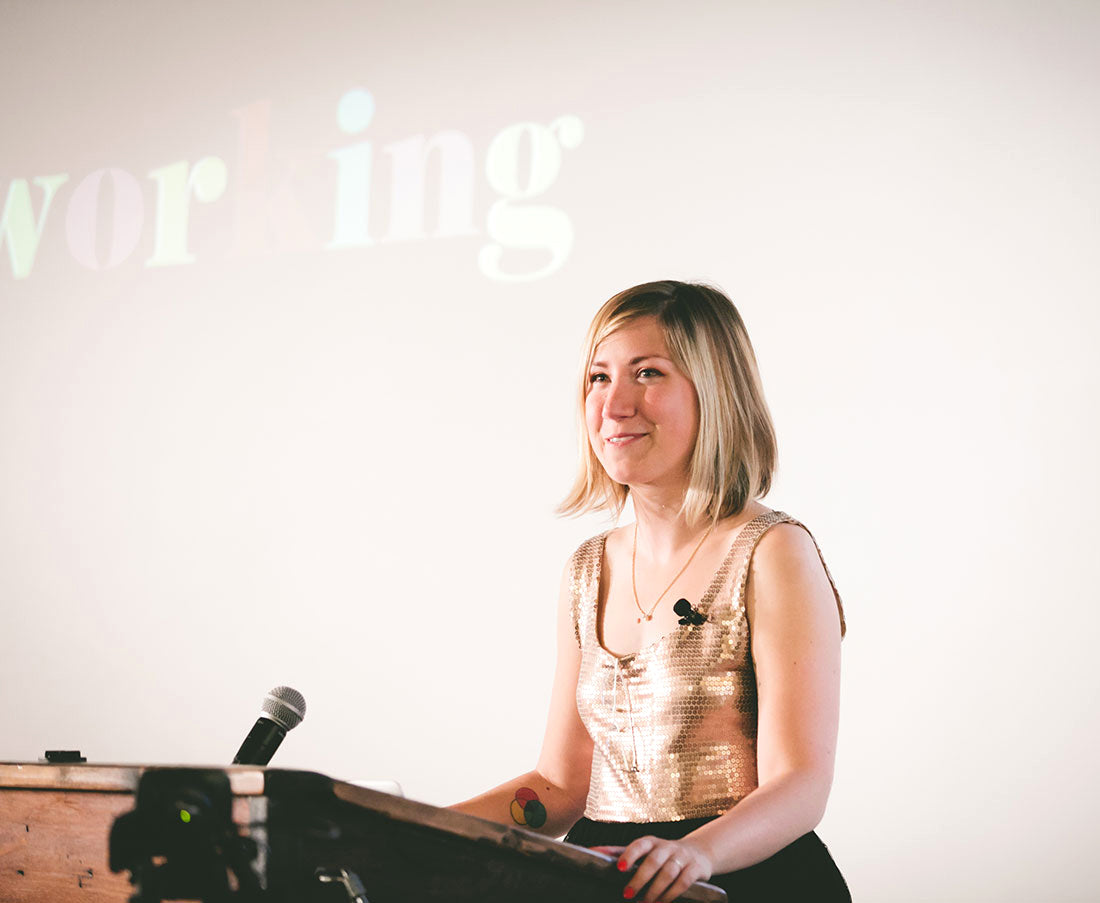 Forever Oversharing
If you can't tell from the abundance of information on this website, I love sharing resources. My journey into becoming an author started through constantly sharing my process—first online and on stage at conferences and then in my first published book In Progress. Once I became a parent, I felt especially motivated to create resources for kids, parents, and teachers.