This 140 page pdf contains all of the information I gave in my original Dark Art of Pricing seminar. I walk through why pricing matters, the importance of contracts, the difference between hourly / day rates and flat rate pricing, how Creation + Usage works and sooooo much more including, of course, actual numbers for pricing different kinds of creative work! The Dark Art of Pricing was included in and expanded upon in my Dark Art of Creative Business workshop / PDF, so if you're looking for even more information about running a creative business snag that one!

Regular price
Sale price
$25.00 USD
Unit price
per
Sale
Coming Soon
View full details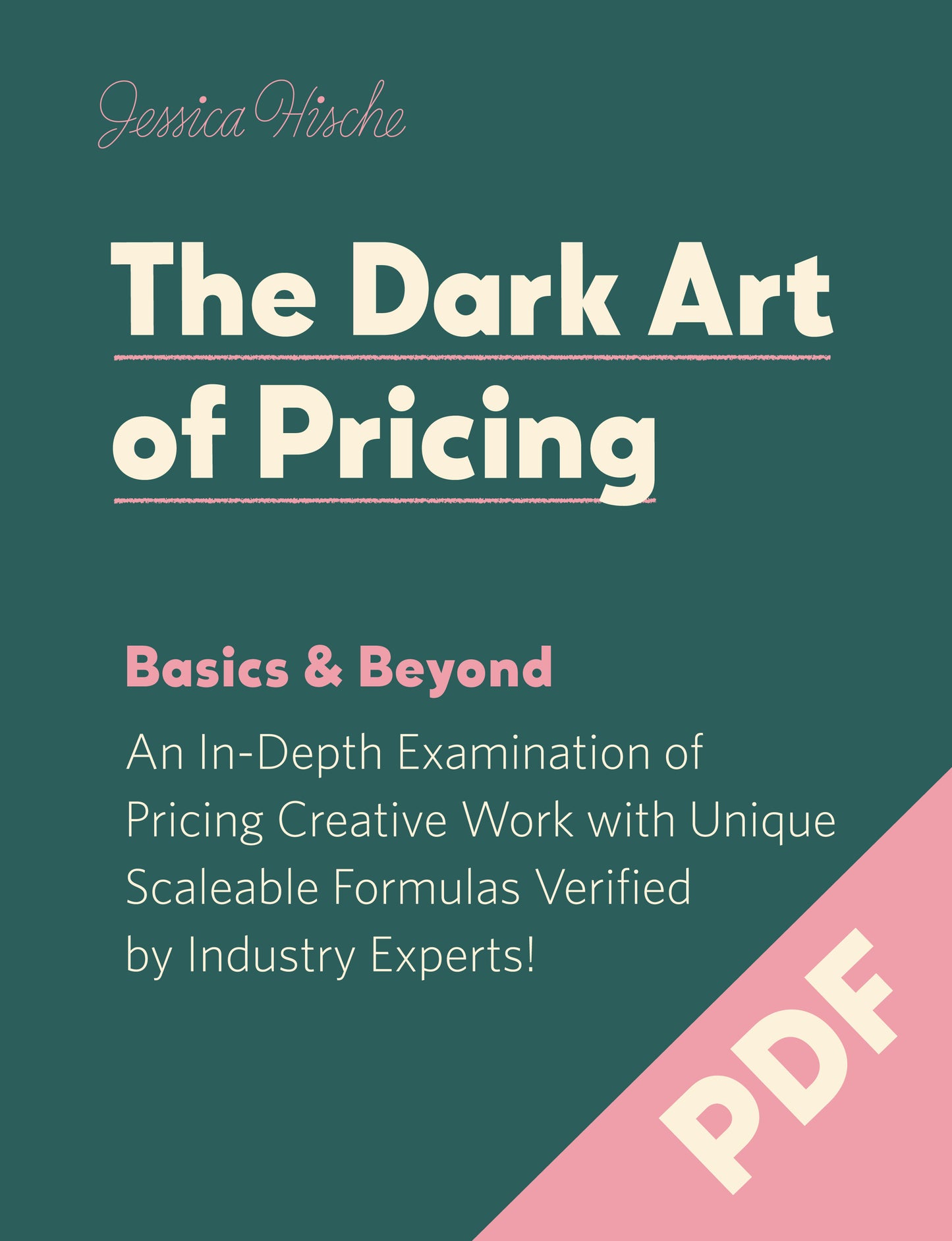 Collapsible content
Download Instructions

You will receive a link to download the file immediately after purchase.

All files are packaged as .zip files and therefore should be downloaded on desktop only. The download link will be deactivated after use so please save your font files in safe place. If you have misplaced your file, contact us with proof of purchase for a replacement.
Digital Product License

JESSICA HISCHE

LICENSE AGREEMENT

THIS IS A LEGAL AGREEMENT, by downloading and/or installing the Jessica Hische digital product ("Digital Product") ("Hische") you agree to the following terms and conditions:

Grant of License

1. Installation, locations, Portable Devices

a. This license is only for the benefit of the users authorized under this license. Authorized users are permitted to install and use the Digital Product on up to as many as five (5) CPUs and up to two (2) output devices.  The Digital Product may be used on a network, but the total number of users may not exceed the users permitted under your License.

b. For the purposes of this License a CPU is any computing device including desktop computers, workstations and portable computers such as a notebook or laptop computer.  For the purposes of this License the 5 CPUs may also include a laptop provided the laptop is based at the licensed geographic location.  This License has special requirements for use of the Digital Product in "Apps" or for use in mobile computing devices such as iPad type devices or smart phones.

c. If you need to install the Digital Product on more than the CPUs permitted under this license, or if more users need to use the Digital Product, you are required to upgrade to multiple user license. 

d. You further agree to treat the Digital Product as confidential information and exercise reasonable care to avoid unauthorized distribution of the Digital Product. If you cannot or do not agree to the terms of this License, do not download or install the Digital Product.  Downloading or installing or using the Digital Product shall be your acceptance of the terms and conditions of this License. You are permitted to make a single back-up of the Digital Product and the copy must contain all of the information contained in the original Digital Product.

2. Rights Reserved

The Digital Product and the designs and information embodied therein are each the exclusive property of Hische. This non-exclusive, revocable license grants you certain limited rights to use the Digital Product only; no permanent or ownership rights are granted as a part of this License. All right, title and interest in and to the Digital Product, the designs of the information embodied therein together with the copyrights, trademarks, trade names and service marks associated with Jessica Hische and the Digital Product are each the exclusive property of Hische.

3. Modifications Prohibited

Except as may be otherwise expressly permitted by a separate written agreement, you may not modify, adapt, translate, reverse engineer, decompile, recompile, disassemble, alter or otherwise copy the Digital Product or the designs and information embodied therein, this term is contractual in nature. You are not permitted to embed, merge or ship the Digital Product or any portion thereof into any other program or work.  The Digital Product may not be sublicensed, sold, leased, rented, lent, or given away to another person or business.

4. Derivative Work

Any derivate works created by you which use or are based upon the Digital Product and/or the designs of the fonts, including, but not limited to, software or other electronic works, are considered derivative works and are not permitted under this License. Any such derivative works are the exclusive property of Hische and shall be subject to the terms and conditions of this license. Derivative works may not be sublicensed, sold, leased, rented, loaned, or given away without the express written permission of Hische. Hische shall not be responsible for or required to support unauthorized, modified and/or regenerated software or derivative works. You are not permitted to create copies and/or your own versions of the Digital Product by converting the Digital Product to alternate media; this term is contractual in nature.

5. Copyrights and Trademarks

The Hische Digital Product is protected under domestic and international trademark, copyright and industrial design law. 

12. Transferring the License

You may transfer the Digital Product to another party provided that the new licensee agrees, in writing, to be bound by this license and you destroy all copies of the Digital Product immediately upon transfer of the Digital Product. The new licensee must transmit a copy of their Agreement to Hische.

13. Warranties

HISCHE MAKES NO WARRANTIES, EXPRESS OR IMPLIED AS TO MERCHANTABILITY, FITNESS FOR A PARTICULAR PURPOSE, OR OTHERWISE. HISCHE SHALL IN NO EVENT BE LIABLE TO THE LICENCED USER OR ANY OTHER THIRD PARTY FOR ANY DIRECT, INDIRECT, CONSEQUENTIAL, OR INCIDENTAL DAMAGES, INCLUDING DAMAGES FROM LOSS OF BUSINESS PROFITS, BUSINESS INTERRUPTION, LOSS OF BUSINESS INFORMATION, ARISING OUT OF THE USE OR INABILITY TO USE THE PRODUCT EVEN IF NOTIFIED IN ADVANCE. UNDER NO CIRCUMSTANCES SHALL HISCHE'S LIABILITY EXCEED THE SUBSTITUTION OR THE REPLACEMENT COST OF THE DIGITAL PRODUCT, WHICHEVER IS LESS AND AT THE SOLE DISCRETION OF HISCHE. THE TERMS OF THIS LICENSE AGREEMENT ARE CONTRACTUAL IN NATURE.

14. Termination of Agreement

Any breach of the terms of this Agreement shall be cause for termination. In the event of termination, and without limitation of any remedies under law or equity, you agree to immediately return the Digital Product to Hische and certify that no copy remains in your possession or control.

15. Miscellaneous

The Jessica Hische Digital Product license agreement shall be controlled under the law of the State of New York, USA without regard to its conflict of law provisions or the conflict of law provisions of any other jurisdiction. You hereby agree that any breach of the terms of this License shall cause irreparable harm to Jessica Hische the extent of which cannot reasonably be ascertained and that Jessica Hische shall be entitled to seek injunctive relief without the requirement of bond in addition to any remedies available under law.  All remedies shall be cumulative in nature. You further consent to the personal jurisdiction of the New York state and federal courts waive any defenses to the selection of law and forum and agree to service of process by certified mail, return receipt requested.

By downloading and installing the Digital Product you acknowledge that you have read, understood, and agreed to be bound by the terms and conditions of this license agreement.



Classroom Use & Student Discounts

Teachers! You can purchase a Single Classroom license for one semester use to distribute copies to a class of up to 30 students. Institutional licenses are also available on a per-year basis and allow distribution to the full student body.
Legal Disclaimer

I am not a lawyer and any information or business advice shared via digital products for sale on this website should not be construed as legal advice. Use at your own risk.